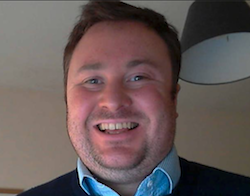 A picture of me at work
My name is Matt Day, I'm a 36 year old Hybrid Cloud Specialist at Google. I love computers, apps and technology. Google is the perfect place for me!
History
I grew up in Swindon, Wiltshire and now live in Royal Wootton Bassett, just south of my home town. From an early age I've always been interested in computers. From my very first computer (Amiga 500) through the days of DOS and programming in Basic, they were a close part of my upbringing. So much so, that I knew from the age of 6 or 7 that I wanted to be in the computer industry when I grew up.
Aside from helping neighbours with their computers, I also was fortunate enough to have a mother who worked in the publishing industry. She provided me with an introduction to Linux book which included Red Hat 6.0 and Caldera Linux CDs. Before long I had installed them on my computer and ran it as my primary operating system from the age of about 17 to 19. I learned a lot about programming and by this stage I was proficient in C and Perl and getting quite good at C++.
One fond memory of this time was using Ximian GNOME because of its superior package management (e.g. upgrade GNOME easily to GTK 2.0 without replacing my OS). At this kind of time, someone suggested I try Debian GNU/Linux in place of Red Hat. I took the plunge and realised how an Operating System is supposed to be. I never used Red Hat (or rpm distribution) again.
University
I enrolled on the Cardiff University Computer Science course in 2003. Whilst I wasn't especially strong in the theoretical areas of computers, I greatly enjoyed the degree and spent much of my time in the Sun and Linux labs (as well as the pub). Due to the practicalities of needing to work in Word and the course assuming I was running Windows, I was generally using Windows XP.
At university I also learned a lot more about drinking. I enjoy my ale (always have) and university allowed me to explore this to the fullest extent. I shudder to think how much money I spent on getting drunk, but sometimes I wonder if it was enough.
After University I joined Cisco and worked there for 11.5 years, ending up in the Data Centre organisation selling cloud and software solutions. Whilst I loved the company, my time was done and I wanted to focus more on the software side of things, so I joined Pivotal. Pivotal enriched my experience with cloud and app dev, but I really enjoyed the 'big company vibe' - Google came calling and I jumped ship!
Google
At Google I'm a hybrid application modernisation specialist working primarily with Kubernetes and app architecture.
Music
I really like music and spend a lot of time listening to it. I am very varied in my tastes and am always looking for new enjoyments. Anything from Bob Dylan to Metallica; through the Dubliners to Robert Miles makes my frequent playlist. I always have music on and seriously enjoy it.
Swindon Town FC
I'm a Swindon Town fan and have a season ticket. I've supported them for as long as I can remember - through good times (hmm?) and the bad times (yes).
Other Pleasures
I've taken up playing golf lately, with frequent lessons to transform my game from being really, really bad to just bad. It's working so far, but I've got a long way to go before I could think about playing properly!
I very much enjoy TV series. I'm a fan of shows such as Futurama, The Wire, The Sopranos, Breaking Bad, Buffy, Angel, Firefly, Frasier and more.
Finally, I enjoy playing computer games a bit too much. My TV presently has a Wii, Xbox 360 and PS3 plugged in to it. My favourite games include the Mass Effect Series, the GTA series (GTA 5 was wonderful) and The Elder Scrolls series (especially Skyrim and Morrowind). I used to play a bit of World of Warcraft until 2010 or so, but after the social structure fell apart I stopped playing it. Some of my favourite memories were raiding in it though!